James came to BC Fitness in December 2016 after his sister recommended he come along to Bootcamp for some social interaction and exercise. James has worked extremely hard over the last seven months with his nutrition - seeing a Dietitian - and his commitment to physical movement. Below are before and after photos of James. Pictures of James on the left of the shot are from December, pictures on the right are from July 2017. The difference in James physically, mentally and socially are impressive. Well done James, keep up the great work!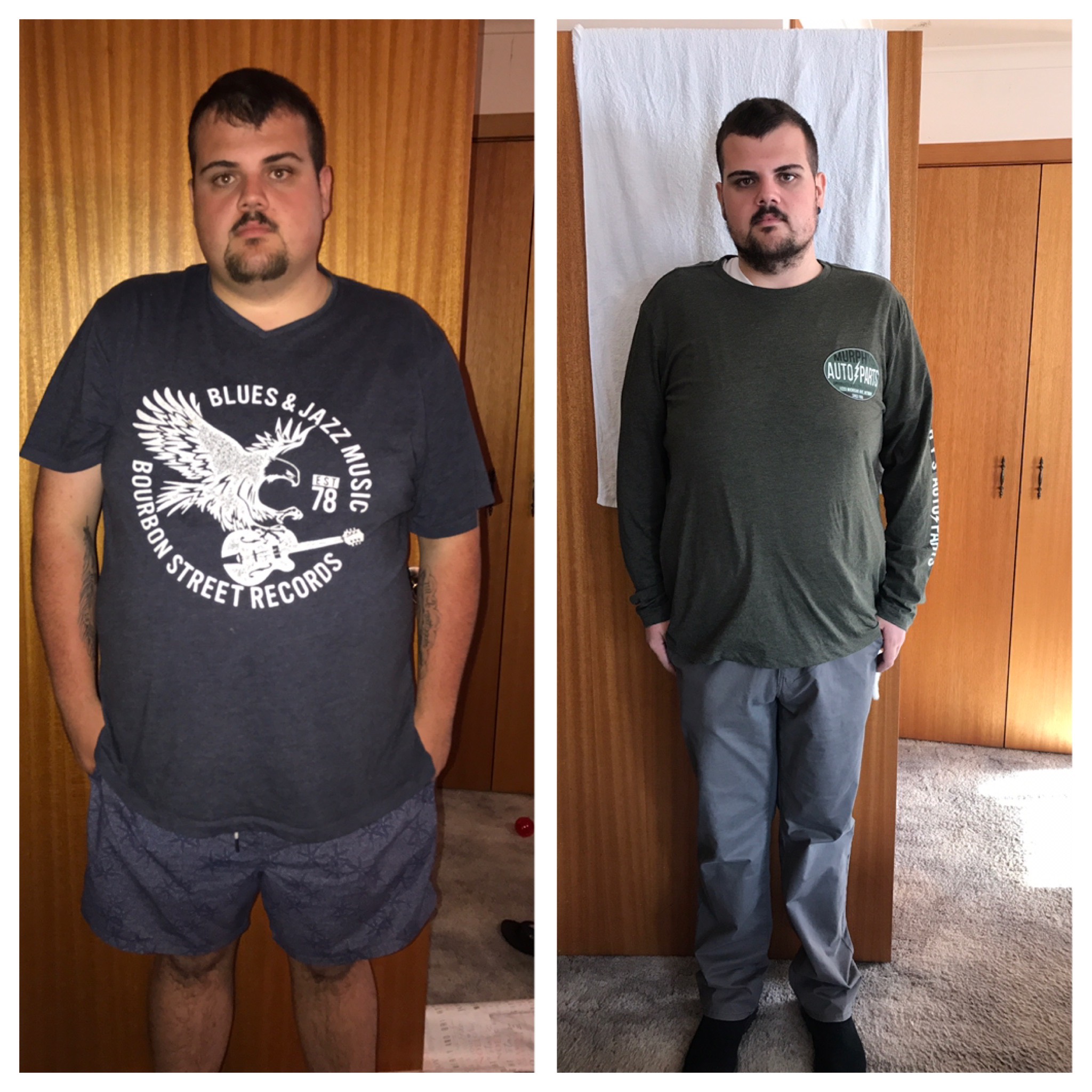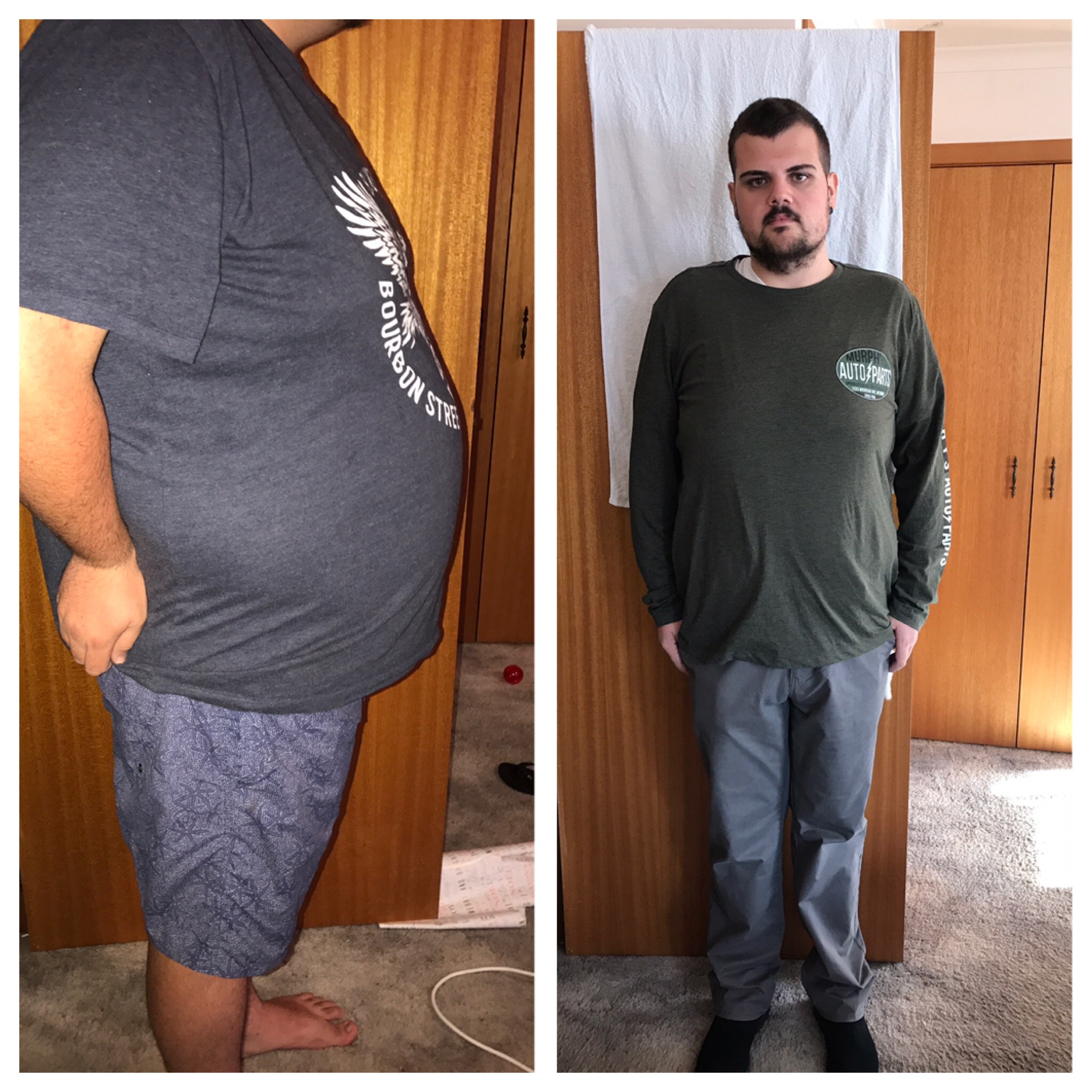 "I first started with Andrew in December 2016 weighing in at 142 kgs. I needed help with weight loss for surgery related to my largely uncontrolled Type 2 Diabetes. Andrew worked with me on a fitness plan to follow consisting of 2 sessions a week of personal training and going to the BC Fitness Group Training sessions (bootcamp) 3 times a week. Andrew knew I was seeing a Dietitian specialising with Diabetics, Erin Jackson, so he worked alongside her to get the results I needed. Andrew has helped me lose 40kgs in 7 months. He's also helped me tone up and gain muscle. The changes in my life have been huge. I am now is remission of Type 2 Diabetes - I am no longer taking any medication for this disease at all. I now have the desire to work out and eat healthy. I was pulled over by the Police a week or so ago. The Officer who checked my licence told me to go to Service Tasmania to have a new photo taken! I'm a pretty good looking rooster now I've dropped weight and taken control of my health. None of this would have been possible without the support and guidance from Andrew."
James B
Emma came to us in February of 2015 wanting to make a change. Below are pictures of Emma before she started with us (pictured left) and now - 8 months later at the beginning of October 2015 (pictured right).
A testimonial from Emma T about what made her choose BC Fitness and why she has been successful in making the changes she wanted.
"I came to BC Fitness as I knew it was time to start exercising and loose some weight. Clothes didn't fit and I felt uncomfortable all the time. I could feel that I was loosing my confident personality. From the first meeting with Andrew I knew I'd made the right choice. Right away I knew he would be the person to help me achieve what I wanted...a healthier, happier, uber confident me. He sat with me for an hour or more discussing my lifestyle, what I wanted, what I struggled with, what if any health conditions I had, what my food weaknesses were - double shot caramel lattes!! He offered suggestions on how to make small but significant nutritional changes to my diet - and I made the changes of my own choosing. I was never scolded for having a bad food day - and I always tell Andrew when I've had a bad food day and his response is always 'It's done now - better choices tomorrow'. Over the last 8 months I've lost weight and have gained my confidence back. Most importantly I have made a healthy lifestyle change, and this isn't just fitness or health eating, for me it IS a way of life. I now bounce out of bed and look forward to exercise, whereas before I would make any excuse and do anything to avoid exercising. Andrew has supported me and made me feel comfortable throughout my journey and has always encouraged me to 'be my best self'. The flexibility of being able to attend the am or pm sessions with BC Fitness, rather than being 'locked in' to one timeslot really suited me as I work irregular shifts. I highly recommend BC Fitness to anyone of all shapes, sizes and fitness levels. You don't have to be fit to come to BC Fitness and have a go".
Dan and Charlotte S came to BC Fitness in February 2015 to achieve weight loss and improved health choices over a 12 week program. Below is a testimonial and photos of their progress from beginning to end over 12 weeks.
"My husband and I were struggling with our weight, constantly feeling like we were eating fairly well and exercising, yet still classed as obese.
This resulted in us seeking guidance and help from Andrew at Bootcamp Fitness - he showed us how to change our lifestyle to make healthy choices with our eating, ensure portion control and exercise to get the maximum out of our bodies in limited time (due to children and work commitments).
He not only showed how to lose weight and tone, but also how to maintain and still enjoy the occasional indulgence.
This has helped us so much to still enjoy a healthy lifestyle with family and friends and also a balance between socialising and making healthy choices.
We can't thank Andrew enough for all his help to both lose a combined over 30kgs, feel amazing and give us both such a positive attitude towards exercise and food.
Andrew we couldn't have done this without and we are forever grateful".
Dan and Charlotte S